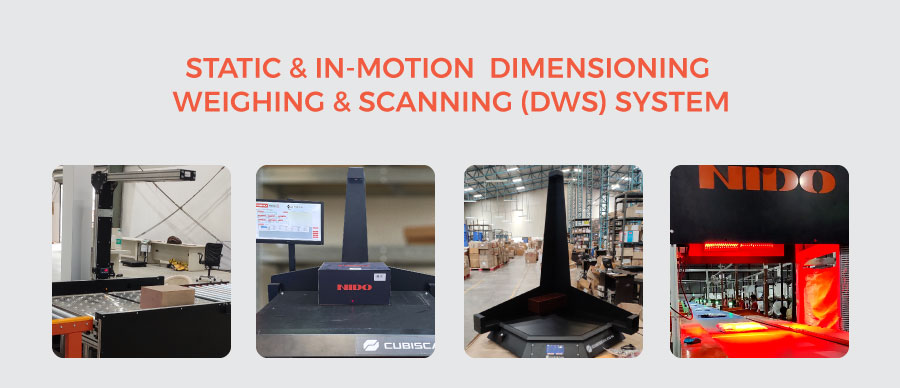 Static cubing & dimensioning systems for regular as well as odd-shaped items, i.e: boxes, bags, apparels, spare parts, long pipes, bottles, jewelries.

In-motion / dynamic cubing & dimensioning systems for conveying, scanning, weighing, labeling and sorting of moving items.

Software with user friendly interface to gather, validate and transfer data to many types of host systems and databases.

Hardware and software can be customized as per your requirements.
Request a Quote
Please complete the form below and we will be in touch with you shortly.
Our DWS Systems will help you in
Eliminate data entry errors.

Cut labor time and increase throughputs.

Utilize space more efficiently for storage and slotting.

Volumetric weight calculation to reduce shipping costs.

Selecting the right carton size, Reduce packing material.

Cataloging with dimension, weight and profile images.

Eliminate shipping chargebacks from the carriers.
Turn your dimensioning data into profits, how?
With our state of the art, automated dimensioning & weighing system, it is now possible for the carrier to accurately dimension & weigh freight without compromising throughput or the operation's strict delivery schedules.
Space equals to money and by optimizing it efficiently you can add more revenues while eliminating the manual, inaccurate and labour intensive processes. From warehousing and space management to shipping and receiving to logistics and transportation, we have a wide range of DWS systems to automate your dimensioning, weighing & scanning operations.
PARCEL SHIPPING
Incorporating dimensioning and weighing system into your warehouse shipping stations will save you money on parcel shipping costs, improve your manifesting efforts, and assist you in revenue recovery.
SPACE OPTIMIZATION
The package data provided by a dimensioning and weighing system can optimize your operation, leading to improved order fulfillment, carton selection, slotting projects, and overall warehouse efficiency.
WAREHOUSING & DISTRIBUTION
The data obtained from the system can be utilized for storage location selection, carton selection & shipment planning. By interfacing directly with the manifesting or WMS applications, it helps in data storage, transfer and validation when required.