DENEB LINEAR ARM SORTER
Most simplistic solution for simple operations. A mechanical arm to ergonomically and safely transfer the shipments off the conveyor line. Our DENEB Swing Arm Sorter is a cost effective entry level sorting solution designed for low to medium volume centers. 
With a sorting rate of upto 2000 pieces per hour, it can increase efficiency, reduce labour cost and provide more accurate fill rates. All these benefits can lead to lower operating costs and faster delivery to the consumer.
Extremely economical sortation system

Minimum Maintenance Cost
Easy diversion of low speed applications
Effective in low throughput applications
| Swing arm sorter | DENEB-SA SERIES |
| --- | --- |
| Item Types | cartons, woven bags |
| Diverting angle | 90 degree (one side) |
| Throughput | 3000PPH |
| Loading size | 10x10x3 to 900x700x700 mm |
| Max weight | 20 kg |
| Conveyor running speed | 1.5m/sec |
Most simplistic solution for simple operations. A mechanical arm to ergonomically and safely transfer the shipments off the conveyor line
Extremely economical sortation system

Minimum Maintenance Cost
Easy diversion of low speed applications
Effective in low throughput applications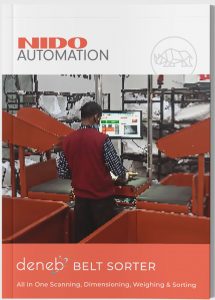 OTHER AUTOMATION SOLUTIONS
REQUEST A QUOTE FOR SWING ARM SORTER